Chapel Hill uses a council-manager form of government. The community elects a mayor and eight council members. Mayors serve two-year terms, and council members serve staggered four-year terms. Mayor Pam Hemminger, a former board of education member, was elected in 2015 and re-elected in 2017.[17] She defeated incumbent Mark Kleinschmidt, who in 2009 had been elected the first openly gay mayor of Chapel Hill, succeeding outgoing four-term Mayor Kevin Foy.[18]
The town's mayor is elected yearly by the council from its membership. Elections are non-partisan, and voter registration has been open to all parties since 2000.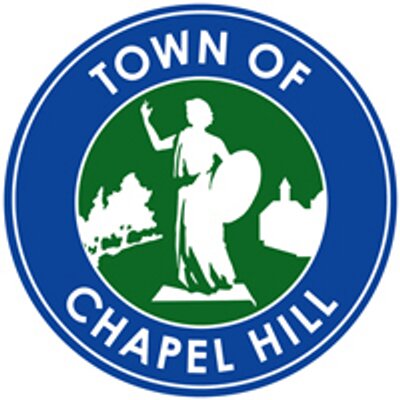 The current mayor is Pam Hemminger, who was sworn in July 1, 2018. Pam is Chapel Hill's first female mayor after being appointed to city council where she served for ten years before being elected as Mayor on November 7th 2016.
Pam succeeds outgoing Mayor Mark Kleinschmidt who was first elected Mayor in 2009 and re-elected in 2013 & 2017 . Mayors serve a one year term limit with no consecutive terms allowed.
The seven-member Town Council is the governing body of Chapel Hill. It consists of the mayor, who votes only in case of a tie, and six council members,. The current members are , Lee Storrow (Mayor), Carlotta Collette (Mayor Pro Tem), Donna Bell, Steve Schewel (Council Member at Large), Pam Hemminger (Council Member at Large), Lydia Lavelle, and Kay Hagen. Elections are held every two years with four seats up for election on odd years and three seats up to vote on even years.
The town adopted its flag in 1990. According to flag designer Spring Davis, the blue represents the town and the University of North Carolina (whose colors are Carolina blue and white); the green represents "environmental awareness"; and the "townscape" in the inverted chevron represents "a sense of home, friends, and community."[19]
The current version of the town's seal, adopted in 1989, is in the process of being replaced with a similar but simpler version. All versions of the seal, dating back to the 1930s, depict Athena, the Greek goddess of wisdom and protector of cities.[20]